Operate Intelligently
More data, More Often
GLOBAL DATA COVERAGE
24:00 / 7 DAYS
Advanced and Flexible Maritime domain data source
Customers use our combined Satellite and terrestrial AIS (Automatic Identification System) Sense data API to provide their analytics and business intelligence teams with unprecedented maritime data.
Popular Use Cases:
An
Alternative Data Source
For Institutional Investment Firms
Drive
Supply Chain Intelligence
For accurate risk assessment
Enforce
Environment Regulations
Through awareness and compliance
Read how the American Bureau of Shipping drove operational improvement with Spire AIS Data
Read Case Study
Read how ClearMetal fused EDI Data with Spire AIS Data to greatly improve Port Alerting
Read Case Study
Satellite and Terrestrial AIS Data Services Products
Vessels API
Easily track and visualize ships with Spire's custom, constantly-updating vessels database. Access ship details along with positions and voyages. Quickly filter by area of interest, ship type, flag country, MMSI, IMO, arrival times, and more.
Messages API
Work with decoded and cleansed AIS messages plus retrieve data from the 7-day archive. Create a custom stream based on area of interest, message type, collection type, flag country, and MMSI.
Predict AI API
With typical AIS, you only know where a ship has been - not where it will be. Our Predict AI product gives you, with confidence, an accurate location for where a ship will be up to 8 hours into the future.
SATELLITE + TERRESTRIAL System Metrics
Industry-leading Improvements
Spire's launch strategy has new satellites entering orbit nearly every month. That pays large dividends in revisit time - the ability to see more ships, more often. Continuous on-orbit satellite software upgrades lead to immediate improvements for customers, like boosts in unique MMSIs and messages collected. No other AIS provider makes system-wide improvements as fast as Spire.
[How Our Data Compares ]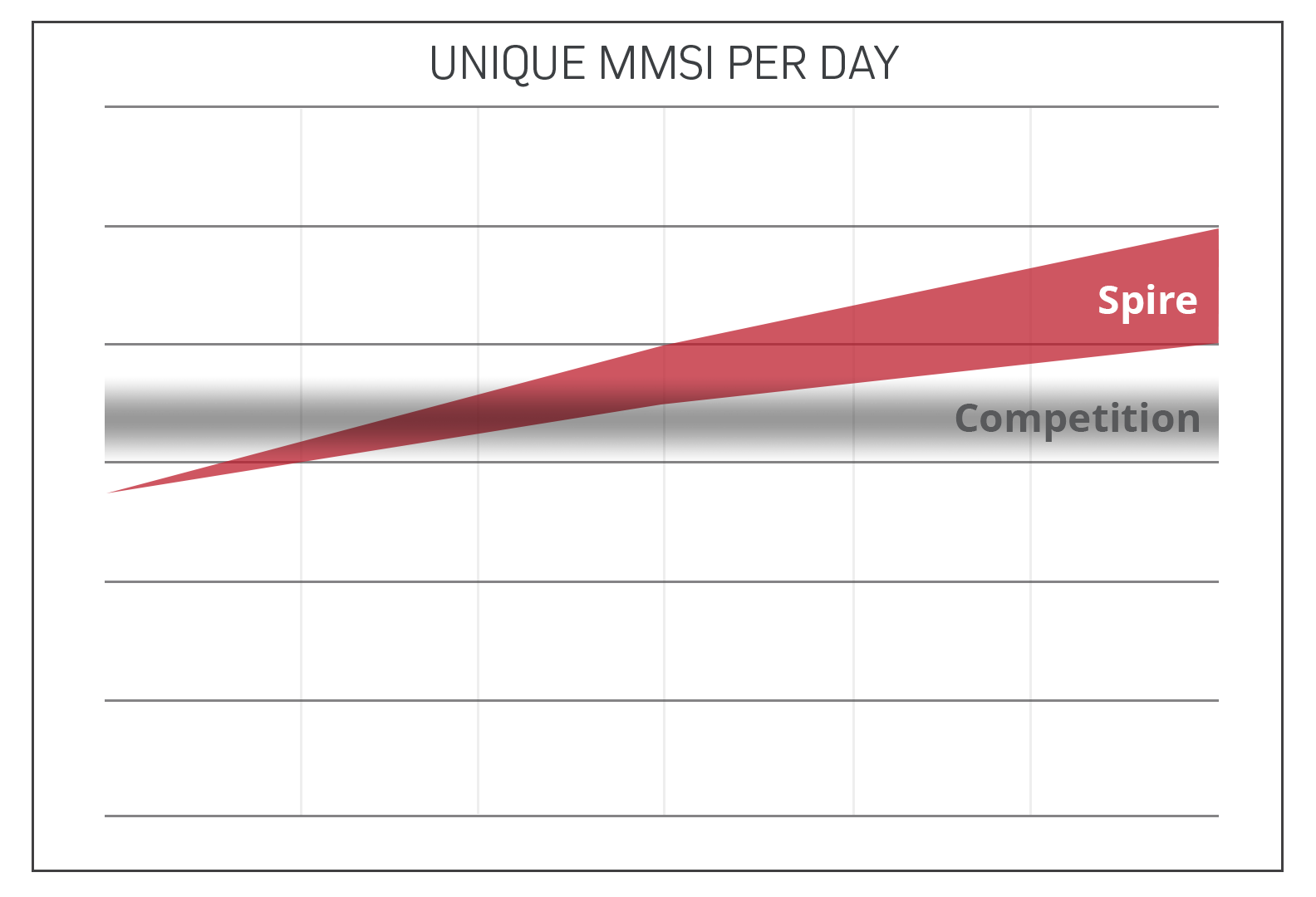 "Spire is an ideal partner for us because they are innovative and nimble, and focused on leading edge technology"
Contact our AIS team today to get started
Email Us
Download a sample AIS data file now
Download Now
Join our Maritime mailing list and keep up to date with satellite AIS data
Sign up Now
Learn More
Learn about how we utilize data at Spire and how we funnel those into other platforms and mediums.
The Spire Reference is a collection of miniature articles about topics mentioned throughout the Spire website. Each topic contains additional citations for further reading.