Maritime data & analytics
Starting at
$1,990/month
Data sources available
Satellite AIS
Terrestrial AIS
Dynamic AIS™
Maritime Weather Forecast
Delivery methods
Live AIS feed (TCP Raw NMEA data)
Maritime & Weather data APIs
Custom historical data file delivery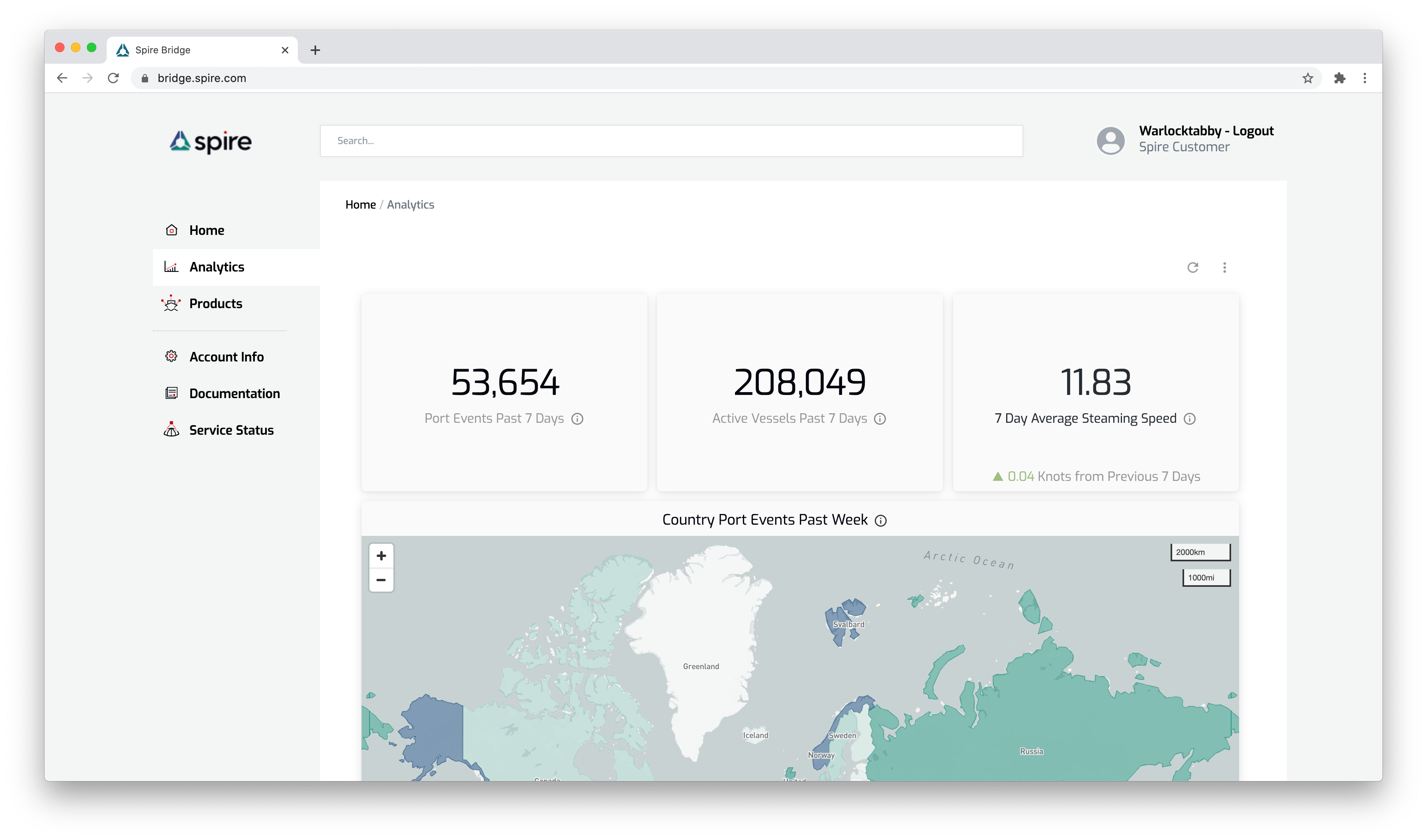 More than data
Spire Analytics: we empower our customers with self-service analytics
Many users need data insights to superpower their activity, but lack the in-house staff or resources to quickly get data-driven information. Spire empowers our data customers with Spire Analytics, a self-hosted, full-fledged Maritime analytics platform based on top of your AIS data subscription. Spire Analytics allows non-technical users to extract valuable insights quickly.
Spire Analytics is only available as an add-on to your Spire AIS subscription, and is served on the Web via Spire Bridge, our web platform that allows you to keep an eye in your subscription details, your contracts and your data usage, in a cross-platform compatible interface.
The data you need, in one place
Our flexible pricing plans are built to solve your unique business challenges and draw from a number of data sources. We offer industry specific pre-packaged solutions and completely customized data sets.
Our data is always easy to use, delivered to meet your needs, and comprehensive. Spire's constantly growing satellite constellation delivers more data faster, including unique coverage in high traffic zones.
AIS IMO Vessels per day
64,196
Max daily vessels, April 2021
Refresh time (all AIS sources)
22 minutes
Average median, Q1 2021
Your custom solution
Data sources

Features

Add-ons

Usage

Contact information
Would you like to benefit from our 4 data sources?
Next
What feature options are you interested in?
Port ETA: reliable ETA calculation
Predict AI: machine-learning powered vessel position predictionMore info
Enhanced vessel dataMore info
Web Map Service (WMS) weather layers
Previous
Next
What add-ons would you like to add?
Spire Analytics (via Spire Bridge)
ESRI ArcGIS integrationMore info
Previous
Next
How can we get in touch with you?